Fidentia hair fibers
The classic among hair thickeners
Fidentia Hair
Fidentia Premium Stray Hair
Many women and men who suffer from thin, sparse hair or hair loss have discovered the Fidentia Premium hair fibers to give their hair more fullness. The electrostatically adhering stray hair fibers cover your own hair and make it appear significantly more voluminous. Convince yourself of the mode of action and the amazingly natural result - without chemicals and without negative consequences for hair growth.
In wenigen Sekunden Tonsur loswerden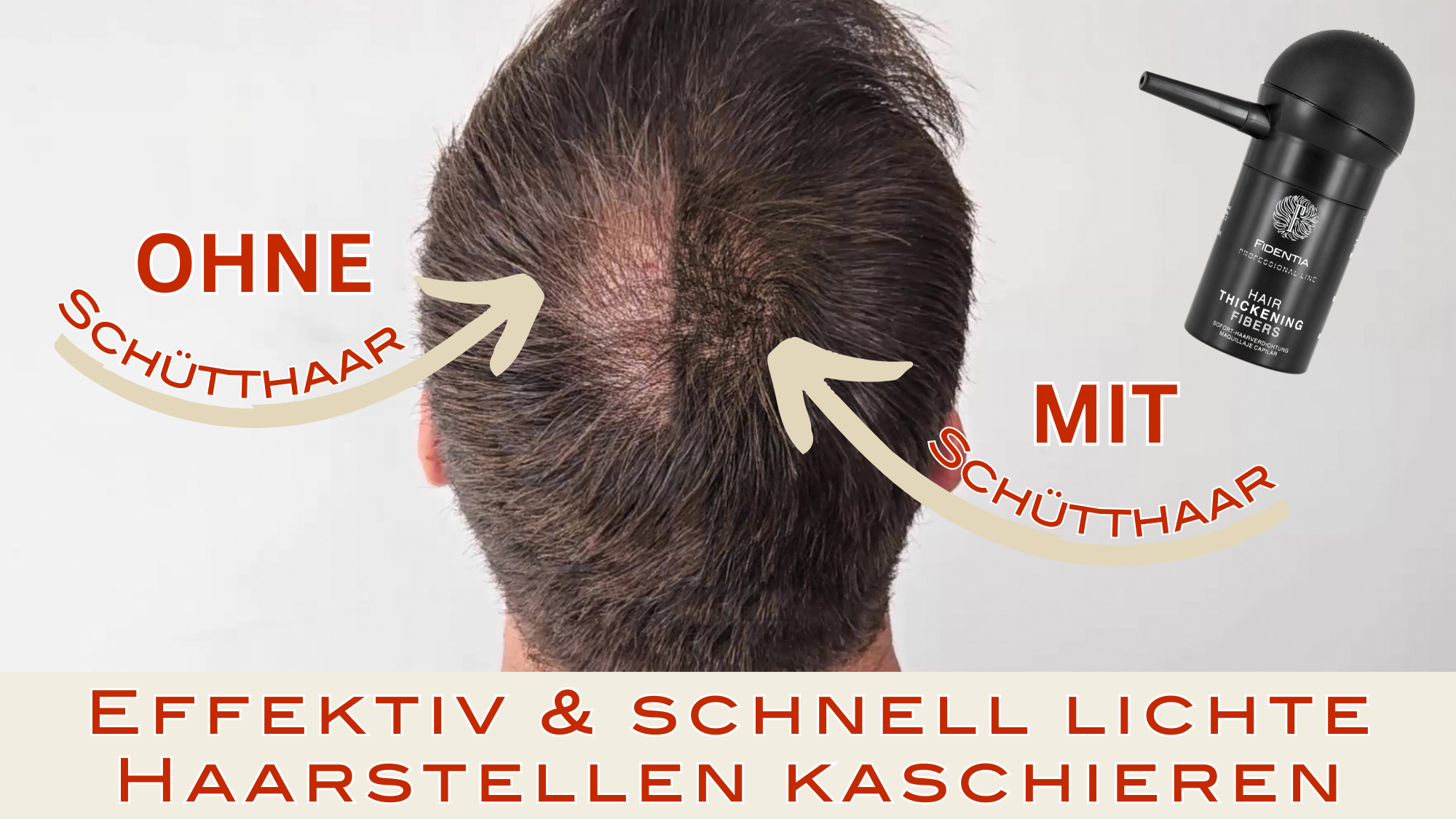 Fidentia Premium hair fibers
BEFORE AND AFTER RESULTS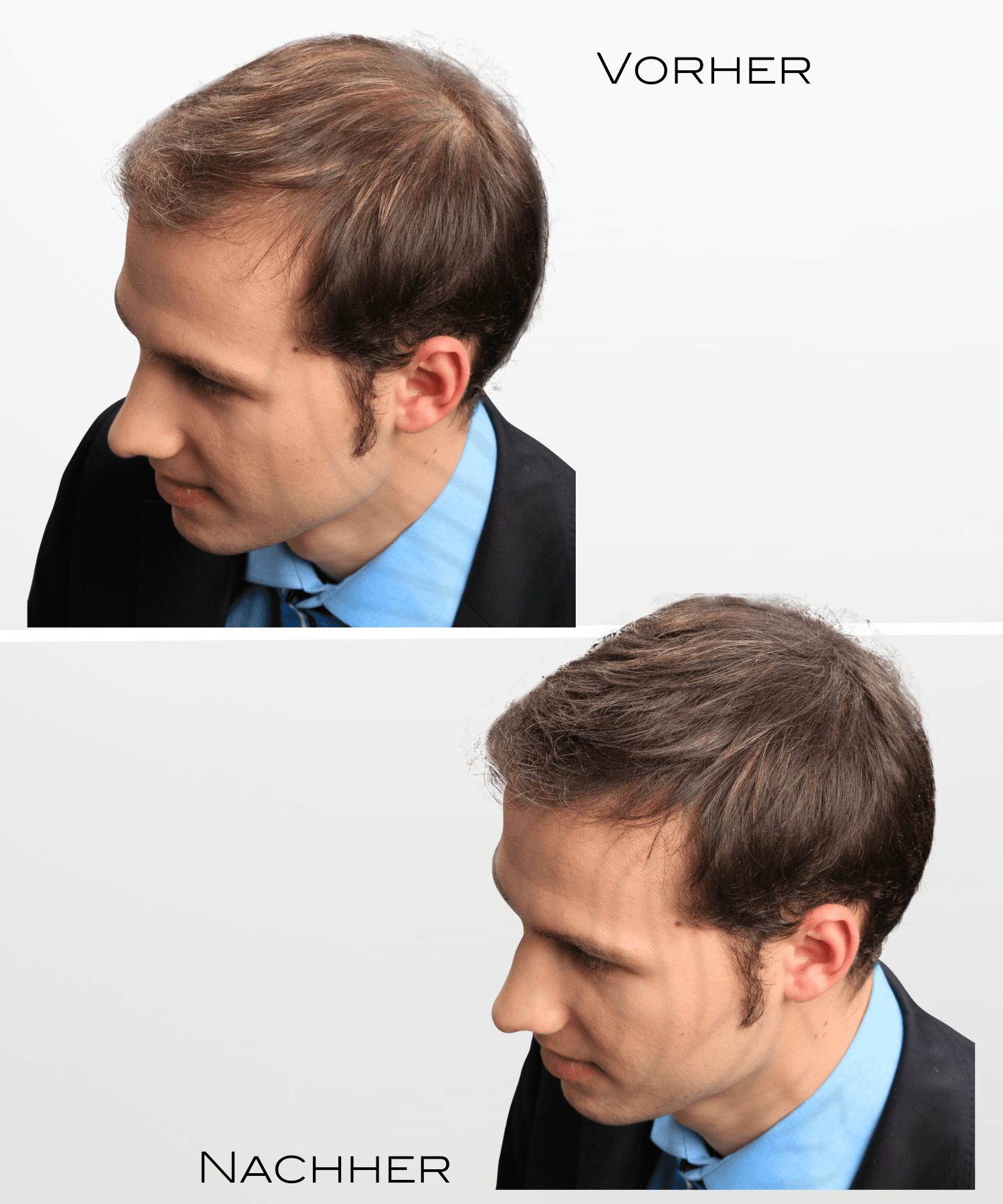 This is how the Fidentia hair fibers work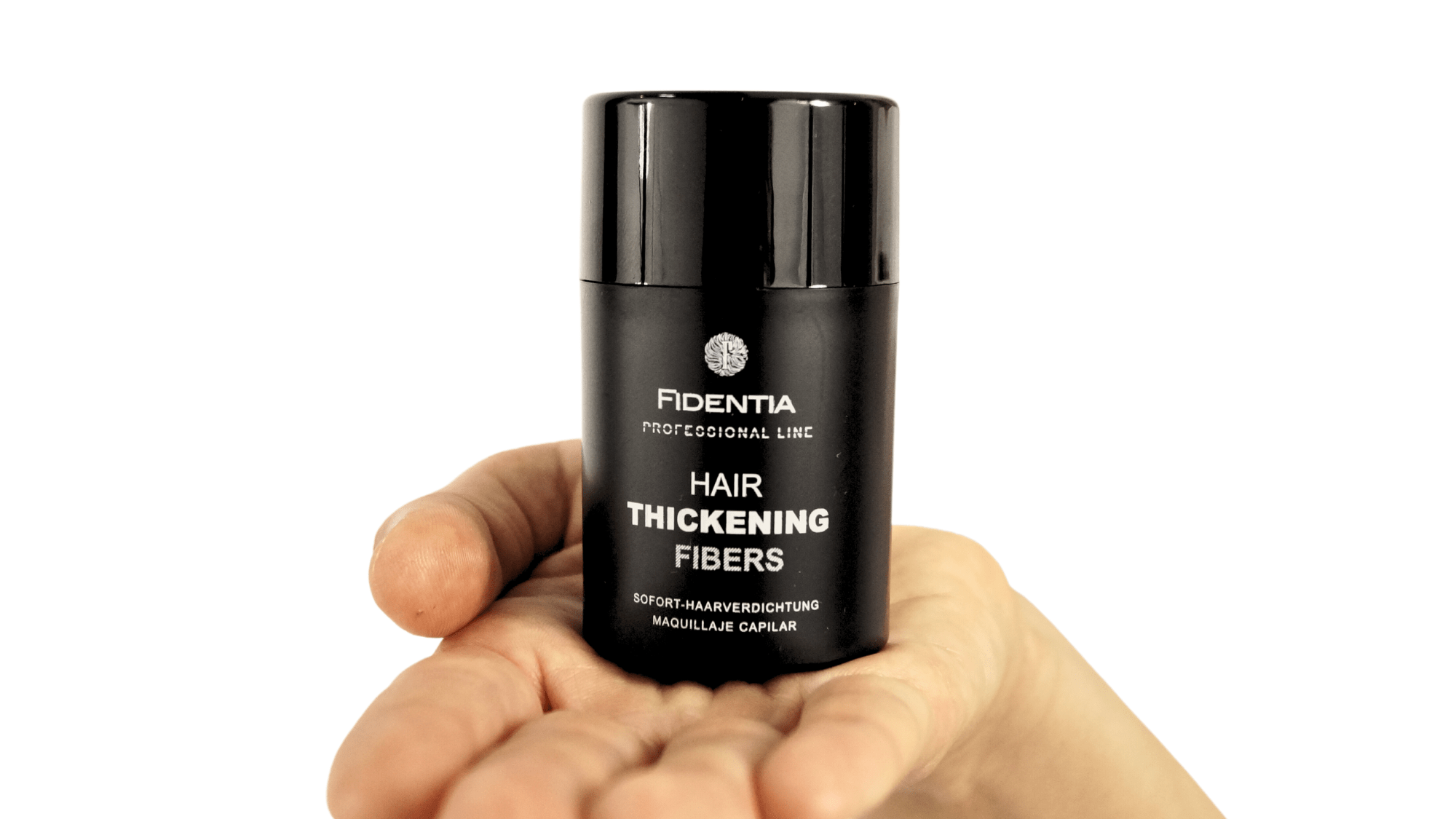 How does hair fibers work?
mode of action of the hair fibers
The Fidentia Premium hair fibers are a product specially designed by Fidentia, during the development of which numerous suggestions from Fidentia customers were taken into account. In order to minimize the risk of allergies, the Fidentia Premium hair fibers consist of a few natural ingredients that are well tolerated. The fiber fibers are obtained from natural cotton, which is electrostatically charged during production. During use, the fibers stick to the hair without weighing it down. Hair fibers are completely harmless and do not negatively affect hair loss, since no pressure is exerted on the hair roots. Hair fibers are therefore very gentle on the hair.
Why Fidentia hair fibers?
Trust the expert
After more than 10 years we have developed 6 top colors for the Fidentia Hair Fibers, which we have perfected on our many regular customers. You will not find a red or green tinge with us, but a naturally genuine color selection from black to blonde. The application is also very simple: sprinkle the hair fibers in a dry room (not in a damp bathroom!) onto dry hair and then distribute it with the palm of your hand. Also seal the hair thickening with the Fidentia fixing spray to get a better hold in sweat and light rain - done!
If you are unsure which hair fiber color is right for you, we recommend that you use the darker tone based on experience. If you are still unsure, please contact us, we will find an individual solution for every customer!
Thats what our customers say
Amazon Hair Fiber Reviews
"I was skeptical at first because I couldn't imagine that such a powder on the hair could achieve such a blatant effect. But it really convinced me! The powder is easy to distribute, does not clump and stays in place even during sports. I can only recommend."
"Two years ago I was still worried and ashamed I didn't know what to do with the hair loss or bald spots then I came across alternatives through YouTube and one of them was stray hair since I've been using it because I only have 1-2 bald spots on the back of my head it is perfect for that you can't see anything the small tube I use in the color medium brown and it's enough for me 1 year? The whole lack of self and stress went away and put me under so much pressure that I lost a dozen hairs a day because of the stress.
Shopvote customer reviews
"I've been ordering for over a year now. I'm always amazed by the effectiveness of getting full hair within seconds that lasts in wind and weather. Very fast delivery. will continue to order there. Can be recommended unreservedly."
"I am very satisfied with the product in powder form. Fulfills what is expected. The hair becomes fuller and, like mine, the scalp visible because of two adjacent whorls is well covered. I can't see any discoloration. I also like the compact powder form that I use for the hairline from time to time.
"I have been using Fidentia products such as: shader/ concealer, hair fibers and applicator, caffeine shampoo and setting spray for 5 1/2 years. I am absolutely satisfied with the products and the entire service (order processing and delivery). I can only recommend this company. Thank you again and again!"
Tips and tricks for hair thickening