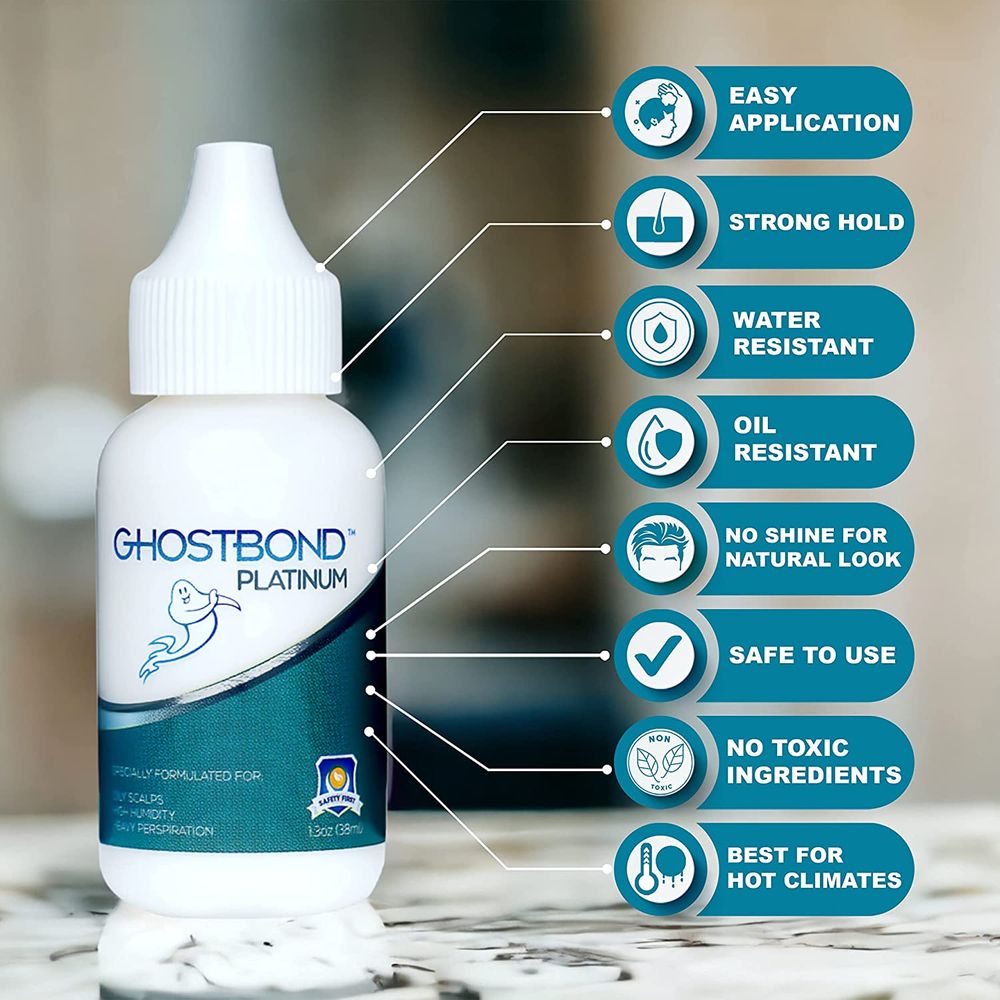 Ghost Bond Platinum Secondary Glue
Premium secondary hair glue from Pro Hair Labs
✓ Water-based copolymer
✓ Improved formula
✓ Strong hold up to 5 weeks
✓ Particularly kind to the skin
✓ High yield
Ghost Bond Platinum
The absolute premium second hair glue from Prohairlabs
Improved formula - based on the proven Ghost Bond XL for Lace & Poly hairpieces, wigs and hairpieces
Strong optics - the adhesive is virtually invisible on even the thinnest poly hairpieces
High yield - it is enough if 1 to 2 layers of glue are applied to the skin or hairpiece instead of the usual 3 layers
Particularly kind to the skin - the adhesive consists of a water-based copolymer and does not contain any aggressive solvents or latex
Improved grip - even during sports, on summer vacation or even in the sauna
Long wearing and easy to remove - stays in place for up to 5 weeks and is easily removed with Fidentia Bond Remover

The Ghost Bond brand is known for their high quality second hair glue and the Ghost Bond Platinum continues this tradition as a premium product. The Platinum range of liquid adhesives withstand oily scalps, heavy sweat and high humidity while offering a regenerative formula that guarantees a reliable wear life of 4 to 5 weeks.
The Ghost Bond Platinum was developed to absorb light to allow an undetectable hairline even in critical situations. It has a higher melting point than other Ghost Bond liquid adhesives, allowing it to withstand heat and sweat longer before the bond degrades. Ghost Bond Platinum is safe to use on both lace and poly systems and its water-based formula is safe for your skin!
Apply 1 thin coat to hair system (skip step for lace systems) and 4 thin coats to head. Only apply the next layer as soon as the previous layer becomes transparent (after approx. 20 seconds). After the 4th layer, wait 7 minutes and then attach the hair system in place. Never apply the adhesive directly to net systems (lace). Be sure to only apply thin layers. Using an applicator sponge, apply a 1mm thick line of glue to one corner at a time. Then spread this layer over about 3 square centimeters. That sounds really little, but a really strong hold comes from several wafer-thin layers applied instead of one or more thick layers. Therein lies all the art.