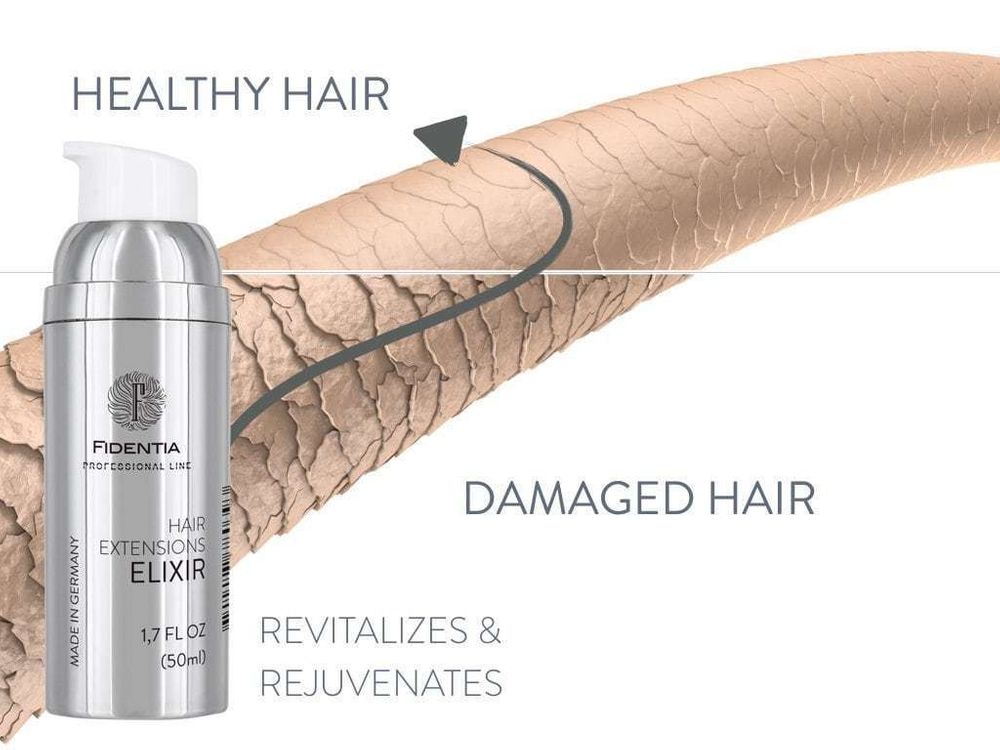 Fidentia Hair Extension Elixir
Rejuvenates and renews dry & damaged human hair extensions
✓ Suitable for damaged second hair as well as natural hair
✓ For maximum recovery
✓ With Moroccan Argan Oil
✓ Moisturizes
✓ Made in Germany
Fidentia Hair Extension Elixir
Rejuvenates and renews dry, damaged human hair extensions
OLD EXTENSIONS LIKE NEW AGAIN - exclusive treatment for dull, dry hair extensions and wefts
HOLLYWOOD FORMULA - State of the art formula from LA's top salons with the finest Moroccan Argan Oil for maximum recovery
SHINE & SMOOTHNESS - Provides important moisture, which is excellently absorbed and makes the hair appear silky and combable again
LONGER BEAUTIFUL - Hair extensions can be put up at least once more often, as the elixir counteracts shedding (hair loss).
WORKS OVERNIGHT - apply the elixir in the evening and be amazed by the effect the next morning
Dry, dull and barely combable hair extensions? Fidentia Hair Extension Elixir lets old or damaged hair extensions shine again and provides them with optimal care and protection for maximum restoration and combability. The luxury treatment with the elixir, which acts like a hair treatment or mask and penetrates to the tips, is particularly worthwhile for expensive human hair extensions.
Unlike hair oil, it does not make the hair greasy but is optimally absorbed. So you can put the hair extensions or wefts up at least once more often. The recipe of the elixir was put together according to the latest hair salon standards in Hollywood with selected ingredients such as real Moroccan argan oil and was made in Germany.
Enjoy radiantly beautiful hair extensions just like the first day and try the Fidentia Hair Extension Elixir now.
Cyclotetrasiloxane, Dimethiconol, Cyclopentasiloxane, Cyclohexasiloxane, Argania Spinosa Kernel Oil, Parfum, Benzyl Alcohol
Untreated raw and cut hair is best cared for with pure argan oil. Simply massage 2-3 drops into the lengths and ends 1-2 times a week and do not wash out.