Hair thickener spray
Gray hair coverage and thickening in one
Maxi Thick jetzt wieder erhältlich
Ihre Alternative für Mane: Ohne Grauschleier, Sprühdüse verstopft nicht, bessere Farbauswahl. Jetzt mit Rabattcode ausprobieren!
Mane hair thickening spray
Our Hair Thickening Spray from Mane is a colored hairspray. It is an easy-to-use hair filler and is suitable for concealing thinning hair and hair loss (also over large areas) in a matter of seconds or as an effective volume product for fine and flat hair. It is also very suitable for covering gray hair or for gentle, temporary adjustment of the hairline in dyed hair. It is based on natural minerals, is very economical and is available in 12 different shades.
HOW DOES the hair thickener spray WORK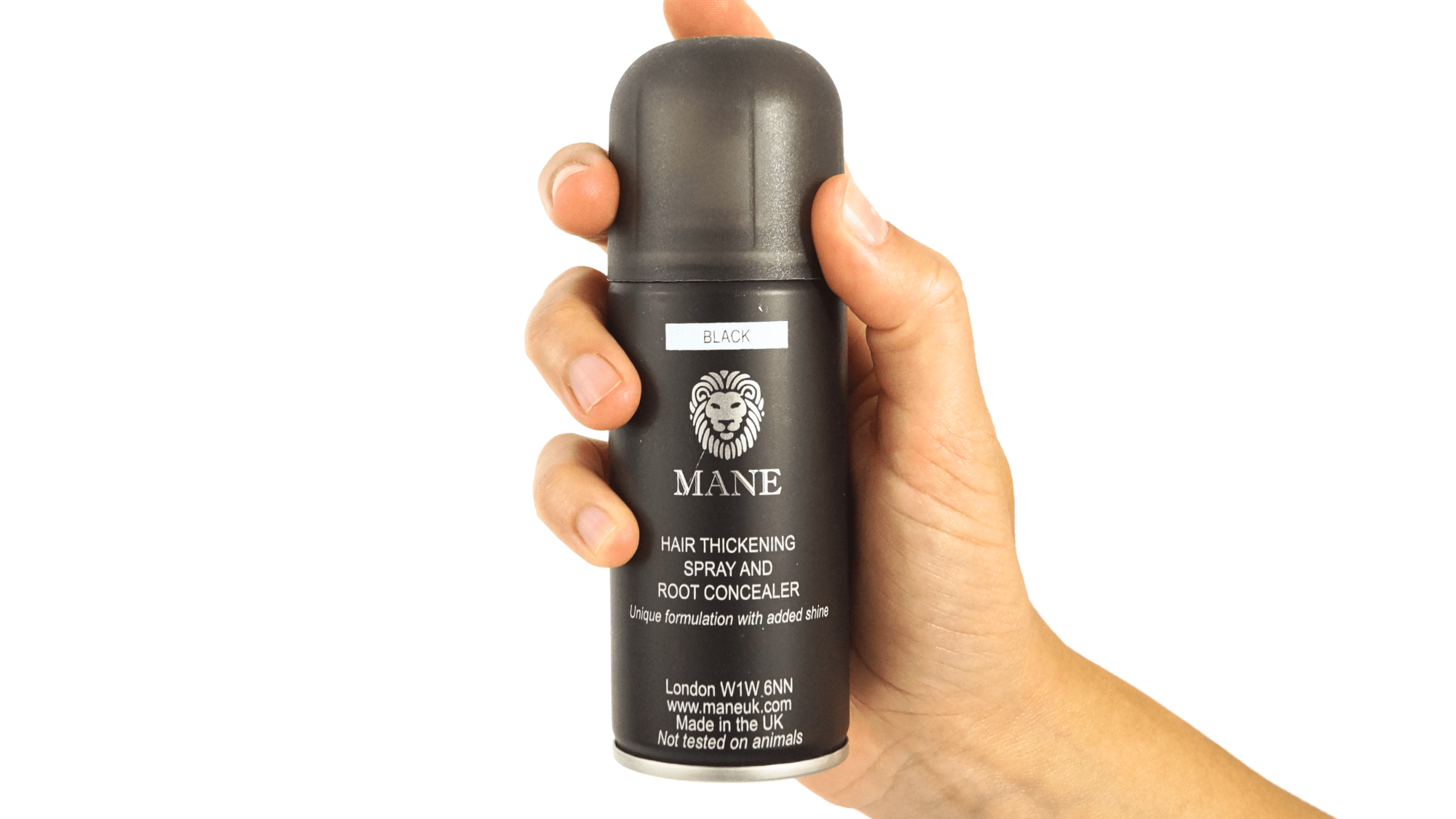 Mane hair thickener spray
Before and after results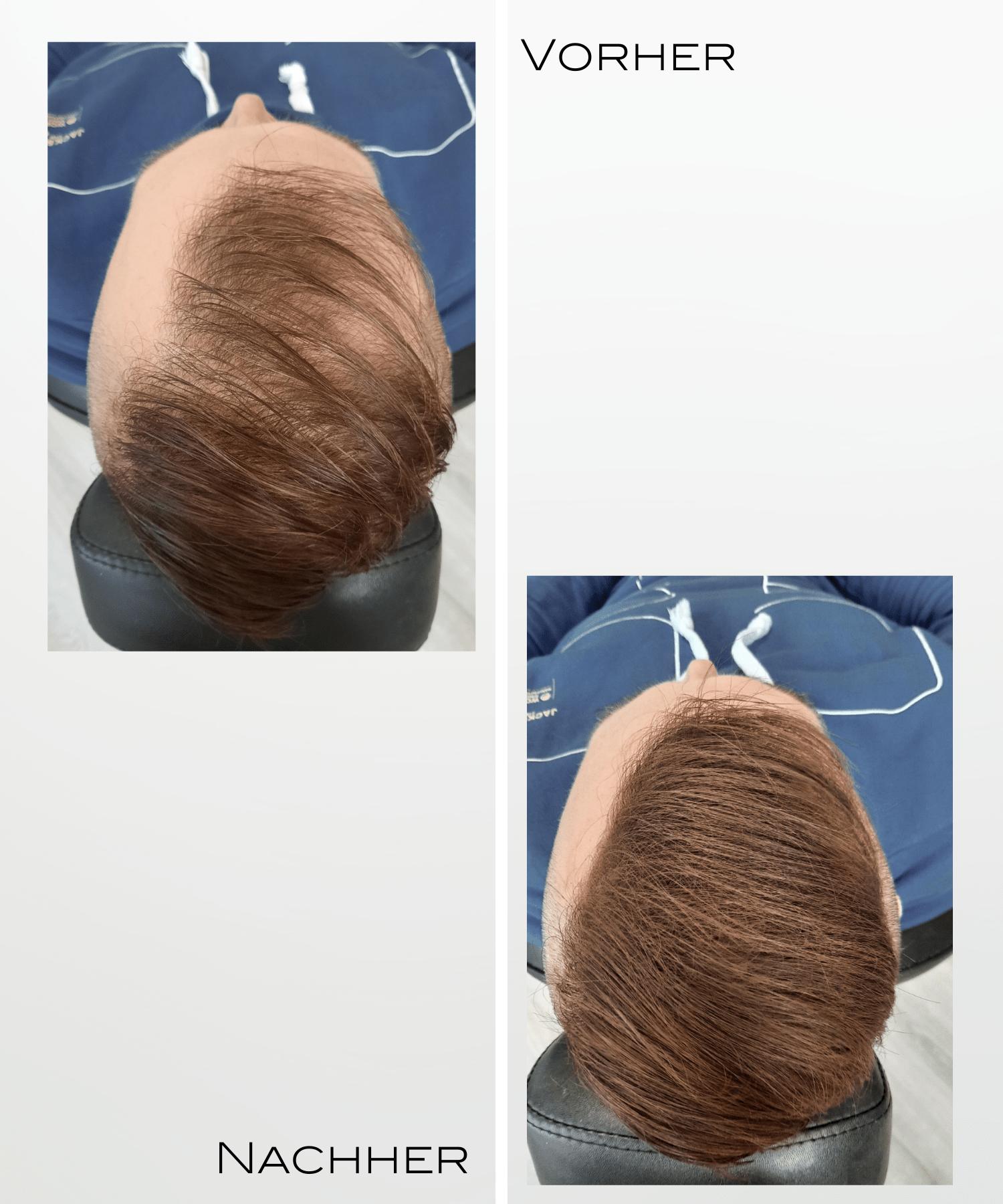 How does the hair thickener spray work?
Conceal light and thin hair quickly with this color spray
The Mane Hair Filler Spray is used in a similar way to a conventional hairspray. The compression particles made of natural minerals contained in the hair thickener spray enclose the individual hairs with a color film, making thin, sparse hair immediately appear thicker and denser. Even thin downy hairs that were previously invisible are colored and given more volume. The hair appears fuller overall, also because shimmering parts of the scalp are concealed during use. To ensure that the spray sticks where it should, spray it onto the hair from below rather than from above. If there is little own hair, the application requires appropriate practice in order to achieve the most natural possible result.
OTHER ADVANTAGES OF THE PRODUCT
Gray hair coverage and thickening in one
The Mane Thickening Spray is also ideal for a quick color refreshment in between, for example to adjust the growing hairline or to conceal gray hair. For an even better hold and to avoid staining, as well as to seal the hair thickening, it is recommended to use the Mane Seal and Control Spray afterwards. The hair thickening lasts until the next hair wash. Due to a lot of customer feedback, we recommend choosing a darker color variant. If you are still unsure, please contact us, we will find an individual solution and the right product for every customer!
In addition, we have perfected our color selection after years of experience. You will not find a red or green tinge with us, but a naturally genuine color selection from black to blonde. If you are unsure which color is the right one for you, we recommend, based on experience, that you go for the darker tone and use the color of your hairline as a guide.
Thats what our customers say
Amazon hair thickener spray reviews
"I'm extremely satisfied. My bald spots on the back of my head and the thin hair are filled in and appear thick and voluminous!
Lasts all day and even if you sweat nothing happens!
Great for special occasions such as weddings, birthdays etc. Be sure to wash out before you go to bed!"
"Better than hair4u. Better to comb out. A little tip: it only conceals the scalp, which does not have a natural hair look. (in hair color, so that no skin can be seen) It is recommended to pour hair fibers on it, which gives it a little hair look. It costs around €25, but lasts at least 9 months if you use it almost every day. Then use hairspray or the appropriate fixative spray to make everything non-slip. Complete."
"Great product! I can only recommend it to anyone with thinning hair. Perfect to cover up the scalp. It stays on your head for up to two days unless you wash it off with shampoo first. Unfortunately, it rubs off easily, but once you get the hang of how to apply it, nothing can go wrong. I recommend hairspray to fix it. I've been using it for a few months now and nobody has noticed that I actually have a receding hairline and hardly any hairline."
Shopvote customer reviews
"I've been ordering for over a year now. I'm always amazed by the effectiveness of getting full hair within seconds that lasts in wind and weather. Very fast delivery. will continue to order there. Can be recommended unreservedly."
"I am very satisfied with the product in powder form. Fulfills what is expected. The hair becomes fuller and, like mine, the scalp visible because of two adjacent whorls is well covered. I can't see any discoloration. I also like the compact powder form that I use for the hairline from time to time.
"I have been using Fidentia products such as: shader/ concealer, hair fibers and applicator, caffeine shampoo and setting spray for 5 1/2 years. I am absolutely satisfied with the products and the entire service (order processing and delivery). I can only recommend this company. Thank you again and again!"
Tips and tricks for hair thickening